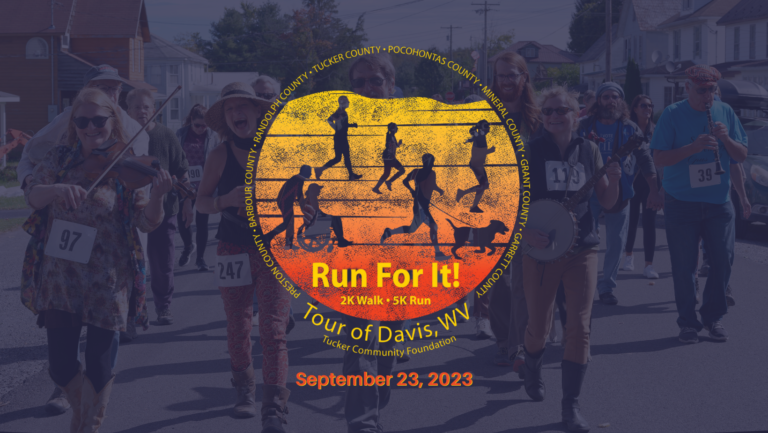 The Tucker Community Foundation's 2023 RUN FOR IT event, one of the largest annual fundraising events in the Potomac Highlands region of West Virginia & Maryland will be held in Davis on Saturday September 23, 2023.
Each year, participants run a certified 5k race or walk a 2k course during the Leaf Peepers Festival to support the community cause of their choice. When you join the Heart of the Highlands team, one half or your race day registration goes to our organization. We receive credit for the number of people that join our team whether or not you participate in the race. You also have the opportunity to donate a little more when you register. Extra donations will increase the money we receive from the foundation because extra funds are given out to the teams with the most donations raised.
Last year, 29 racers chose Heart of the Highlands as their community cause, and we are very grateful for their support as we raised $2,946.82. We hope to reach a goal of $4,000.00 this year to support our trail work. If you can't volunteer on trail work days, joining the HoH team or making Run for It donations are a great way to support the Heart of the Highlands.
Join our Heart of the Highlands Run For It Team Now or Donate! https://runsignup.com/Race/136743/Donate/r35jBxhVRB5LtjrZ
Have your friends sponsor you and donate to Heart of the Highlands fundraiser: https://runsignup.com/Race/Donate/WV/Davis/RunForIt