HOH News Update
Our organization is continuously working to expand and improve local trails. And for us to achieve these goals, we as an organization also need to expand and improve. We have welcomed new board member Lisa Sampson whose contributions will help us organize efforts around our trail advocacy. We are also looking to hire a Project Coordinator to help lead new projects going forward. More information can be found in the description embedded on the home page of our website.
Throughout the Fall we undertook many ambitious projects to revamp our trails to ensure they remain safe and fun for years to come. With the help of our volunteers and our AmeriCorp member Daniel, we have worked on the Pace Point trail, which was horribly overgrown before. Other projects have included work on Hellbender and its rock bridges and overgrowth issues, parts of Trials Road and Promised Land trail were also worked on to deal with muddy spots. With the Fall leaving us trail work will slow down, but we hope to come back strong with events and all hands on deck once we start coming out of winter.
Working with the WV Land Trust we managed to forge new routes through the Yellow Creek Natural Area. NCCC AmeriCorps came from out of state to help build out the trail and construct a new bridge.We have also been working with our other land managers to routinely repair and maintain our trails when needed. With the collaboration of trail enthusiasts, land owners, and the community at large we were able to have a successful and productive year.
Here's to 2022!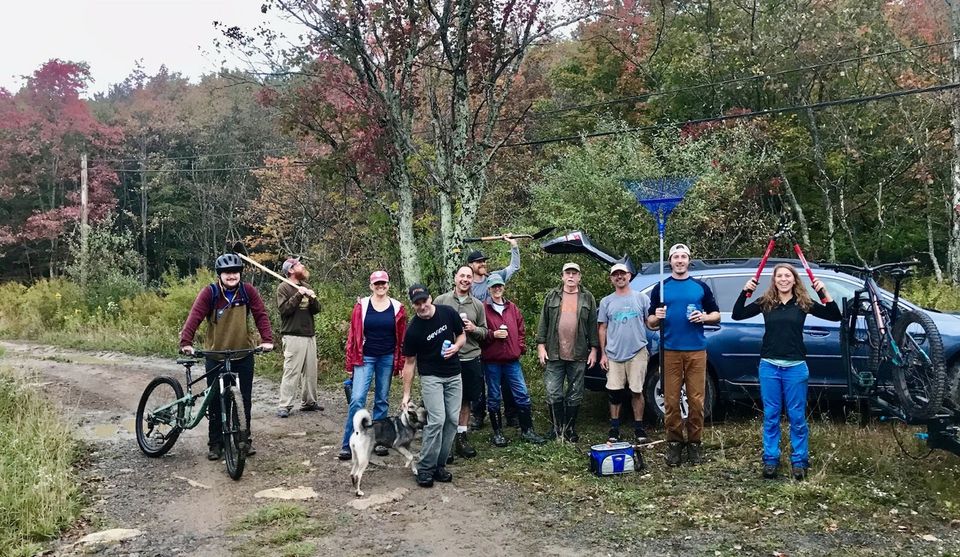 Walking Stick Trail Done!
5/25/2021: We had a terrific crew out for our bi-monthly trail work. We meet monthly every 2nd Saturday from 10am-12pm and 4th Tuesday from 5-7pm. Thanks to Roger for leading the charge and to Sue Haywood and Blackwater Bicycle Association for rallying more folks! We lopped the entire loop of Walking Stick Trail. Many hands made it possible to knock this job out in two hours.
Our next work days in June are the 12th 10–12 and the 22nd from 5-7. Meet at Blackwater Bikes in Davis.
You can sign up for trail work updates here: https://forms.gle/nDj9DEMLhVC1bx667
Lindy Point Trail Work
4/28/2021: Great crew for our April trail work! Thanks to our board member Roger Lilly for leading the team. Thanks also to Linda, April and Alex. And special thanks to our safety supervisor Sheldon dog. Hopefully (grant money pending) we can finish up the walkway and cover the mud holes. Our next trail work date is Saturday, May 8. Meet at Blackwater Bikes at 10am! Sign up for our email trail updates here.
---
Back on the Trails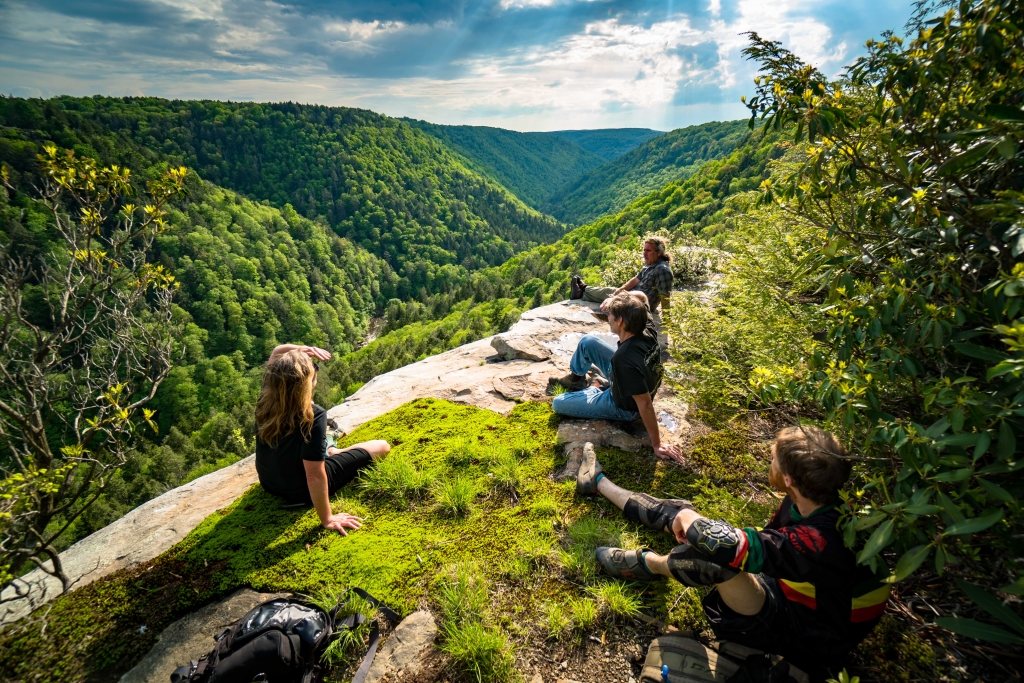 4/2/2021: HOH is gearing up for another season of trail work in the WV Highlands. If you'd like to stay in the loop, please sign up for our trail updates here. Expect bimonthly email updates. As any trail user knows, the rhododendron and mountain laurel never rests! Most of our trail work efforts are lopping and clearing out debris. It doesn't require much skill or know-how. Please help us make our trails safe and accessible.
---
Autumn Splendor
10/10/2020: Leaf Peepers season is in full swing here in the Potomac Highlands. We want to say thank you to everybody who entered our Headwaters Trail Map Raffle. Ironically, a random drawing from the hat landed our board president, Dan Lehmann, as the winner of the framed map! Lucky you, Dan. Many thanks to everyone who bought raffle tickets and supported our efforts on the Headwaters Trail.

We'd like to thank everyone who made it our for trail work in August and September. We clocked nearly 120 hours of work on Saturday mornings for seven straight weeks, rain or shine! Scope out DObbin House Trail just near Blackwater Falls State Park's Pendleton Lake and you may notice some more room to get around those native rhododendron and mountain laurel beauties.

Upcoming events: Canaan Valley MTB Festival was postponed but will still be happening October 16-18. More details here. Blackwater Bicycle Association will be doing a trail work day on Splash Dam Trail on Sunday, Oct 18, at 9 am as part of their Canaan MTB Festival trail work day. Also, there will be a super fun Bike Hash later in the day.
---
Trail work sign-up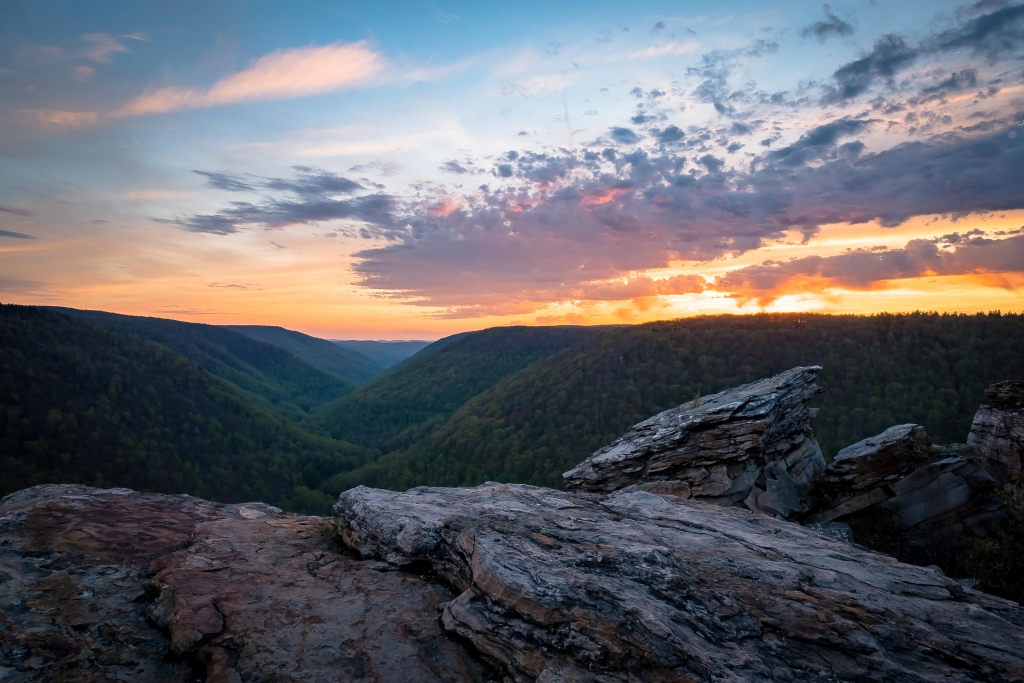 8/6/2020: Sign Up For Trail Work! We are working with the US Forest Service (USFS) on maintaining trails on Canaan Mountain, Canyon Rim, and Dobbin House areas. We will be clearing trails and brushing with loppers and trimmers. Crews typically work together with some people cutting and some people clearing.

WHEN: Each Saturday between August 8 and September 19. Depending on sign-ups, we will aim to get multiple crews out from 9am-12:30pm for about 3 hours of trail work.

WHERE: We will rendezvous at Blackwater Bikes in Davis, WV, and leave from there after we do a head count and some paperwork. Their address is 685 William Ave, Davis, WV, 26260. Phone: (304) 259-5286

HOW: We would appreciate group sign-ups with one point person but we are happy to have individuals, as well. Everyone should plan to have their own transportation to and from the trailhead. Bring water, snacks, long pants, and sturdy boots. We will provide eye protection and gloves. Sign up here.

We take COVID-19 seriously and want all participants to respect social distancing practices and wearing masks were necessary.
---
Help us raise funds for headwaters trail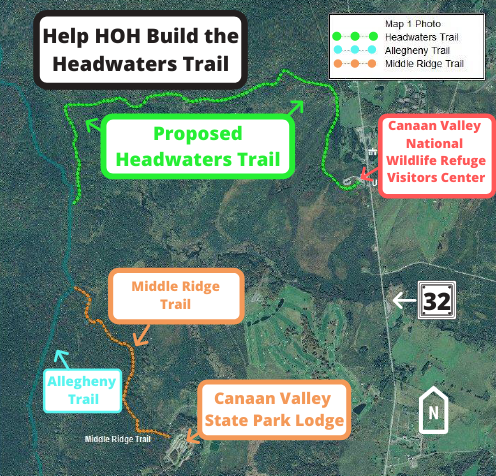 7/16/2020: Approved by WVDNR in June 2019, our proposed Headwaters Trail will link Canaan Valley Resort State Park with Canaan Valley National Wildlife Refuge, our nation's 500th National Wildlife Refuge. With preliminary trail inspection done, we expect this trail connector to cost ~$100,000.00. We have launched a raffle for our 4'x5′ comprehensive area trail map that was professionally framed by Talbott Frame Shop in Elkins, WV. EDIT: We will announce the winner live on Facebook on September 26 at 5PM. Event details here. Please share this raffle with any friends who love trails, maps, and the work that HOH is doing to ensure continued trail access and connectivity. The raffle is not tax-deductible, but any regular donation is. Please contact us if you'd like to make a tax-deductible donation.
---
Local Trail news: FOB to build Blackwater River loop trail
5/29/2020: Friends of Blackwater (FOB) received over $800,000 to build a suspension bridge over the Blackwater River near Douglas Falls, just outside of Thomas, WV. The project aims to link Thomas and Davis with an 8 mile trail that will connect the Monongahela National Forest with Blackwater Falls State Park. They will also put interpretive signage along the trail. Learn more here. Congratulations, FOB!
---
Trail use during a pandemic
5/18/2020: Lots of people are going stir crazy with stay at home orders and social distancing due to COVID-19. We can all take precautions to slow the spread of this virus by respecting other trail users when we cross paths. Consider moving off of the trail to let others pass. One of America's biggest through trails, the Appalachian Trail (A.T.), had been shut down initially, but they have updated their recommendations to this "highly dynamic situation." From their website:

"Before you decide to head out, ask yourself three questions:
Are you, or anyone in your group, exhibiting symptoms of COVID-19, or have you been in contact with someone diagnosed with COVID-19?
Is there an official closure of the section of the A.T. you are planning to hike?
Are you, or anyone in your group, missing any essential gear to not only have a safe and healthy hike but also mitigate the spread or contraction of COVID-19?
If the answer to any of these questions is yes, we ask you to stay home.
If the answer to all these questions is no, we recommend the following:
Be self-sufficient: In addition to the ten hiker essentials, carry a CDC-approved mask and hand sanitizer. Practice social distancing; if not possible, make sure you are wearing a mask and other personal protective equipment (PPE) to help stop the spread of COVID-19. As this virus can remain on hard surfaces for days, we advise not using Trail resources like shelters, privies, or picnic tables. If you come into contact with hard surfaces, either wash your hands (if possible) or use hand sanitizer. Pack a trowel so you can dig catholes (70 adult steps from the Trail, campsites, and water sources and carry out toilet paper) instead of using privies on the Trail. For overnight trips, use a tent or other personal shelter and carry a bear-resistant food storage device to avoid using a bear box, cables, or pole. Treat your hike like a true backcountry experience that is not reliant on A.T. facilities you would otherwise use.
Stay local: Hike close to home. Ensure you do not have to stop for gas or meals along the way. Check the Trail Closures page on our website before heading out, as the section of the Trail you are planning to visit may have an official closure or other restrictions.
Stay small: Hike only with members of your immediate household or in groups smaller than six people. Avoid well-known locations where there will likely be many visitors. Do not access the Trail during high traffic periods (weekends, holidays, etc.). Have a backup plan in case the trailhead is crowded when you arrive. If trailheads are full, turn back and return when crowds have dispersed. Do not park in undesignated areas or block roads or gates.
Be prepared: Carry a physical map of the area where you are hiking. Share your plans with someone you know in case you need assistance. Review Leave No Trace principles on our website so you can leave the Trail the same or better than you found it. Being prepared not only protects you and the Trail — it protects your fellow hikers and, should you become lost or injured, the search and rescue teams that would use their limited resources to come to assist you.
Be respectful: If you head into town on your trip, please wear PPE and use hand sanitizer or wash your hands with soap frequently. Contact businesses and service providers in advance to make sure they are open and follow local guidelines. Minimize the amount of time you spend in town. If you become ill on Trail, particularly if you exhibit any symptoms associated with COVID-19, leave the Trail and seek medical attention.
Be patient: While some states are removing or relaxing stay-at-home orders, there are still numerous restrictions and closures on the Trail. Over 100 shelters are still closed, at least three states have required or recommended 14-day quarantines upon entering, and restrictions are still active throughout A.T. states. The Trail may be closed near you. Even if open, certain Trail facilities may not be open to public use. Keep yourself informed and check the ATC website for the latest updates."
---
Mountaineer Trail Network Authority
3/12/2020: In 2019, the WV Legislature passed Senate Bill 317, which allows for the creation of the Mountaineer Trail Network Authority. This is modeled after the popular Hatfield-McCoy Trail in southern WV, which allows for private landowners to be freed from liability for trail users by being covered under the State of WV's insurance policy. Friends of the Cheat and Downstream Strategies have been leading the charge to get this new multi-county trail authority off the ground. Anybody interested in applying for a board position should contact their county commission in the following counties: Barbour, Doddridge, Grant, Harrison, Lewis, Marion, Mineral, Monongahela, Preston, Randolph, Ritchie, Taylor, Tucker, Upshur, and Wood.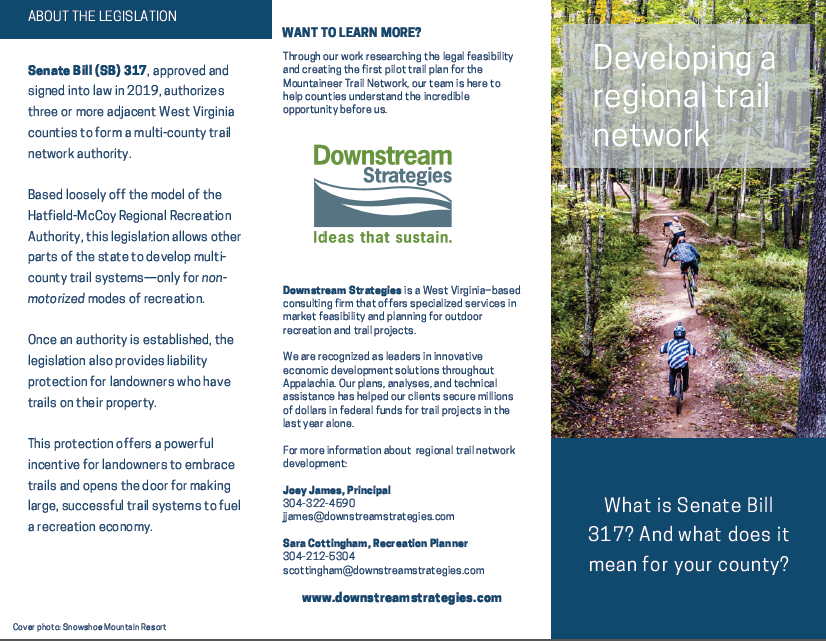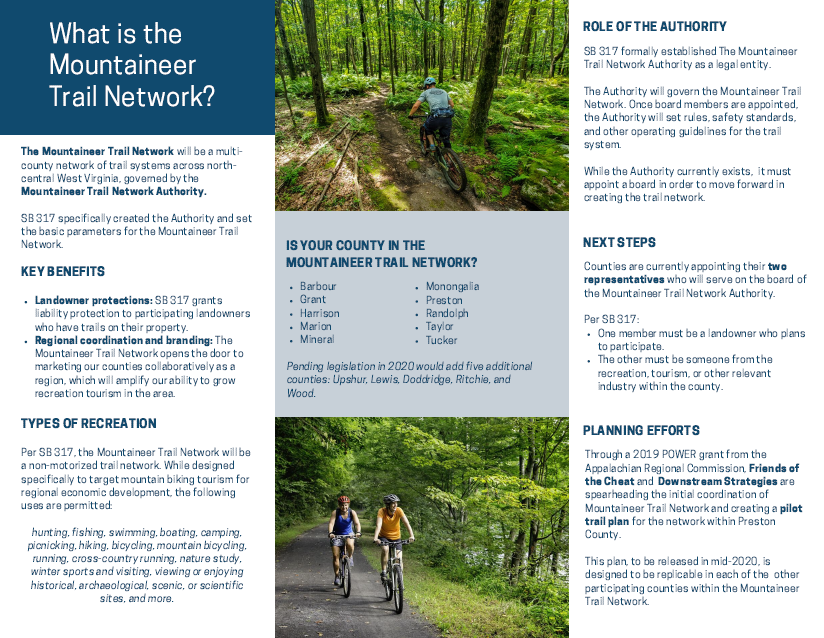 ---
Trailforks App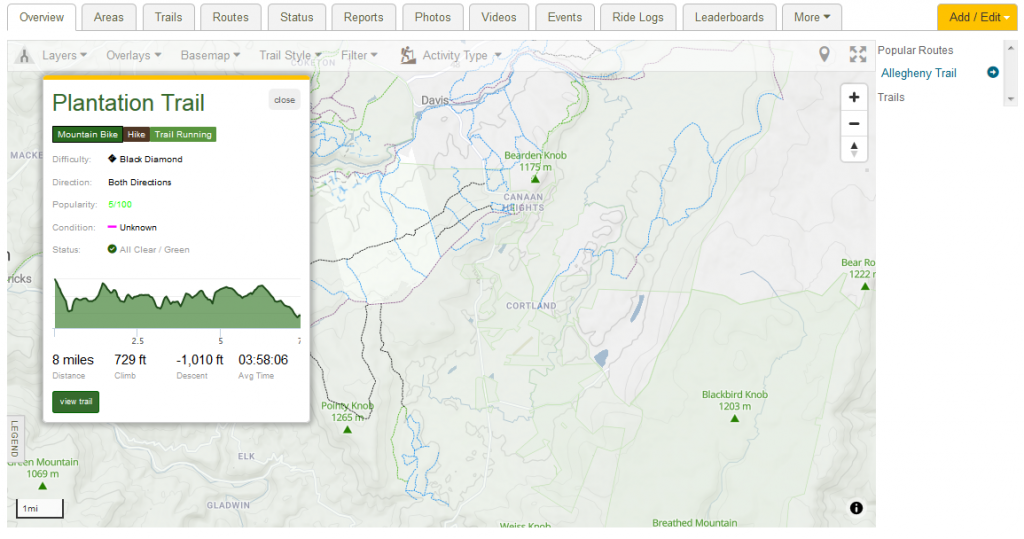 2/27/2020: Our newest board member, Brian Sarfino, clued us into Trailforks. This website and mobile app is a great resource for any and all trail users. Here's a link to the WV database. "Trailforks is a trail management system for outdoor enthusiasts, trail builders/associations, government and tourism. It aims to provide the very best tools to inventory, maintain, promote and showcase trail networks and tourism destination. Tools such as statistics empower each group to have accessible data to show local city councils, governments, tourism boards and parks, conveying the popularity and potential economic impact of outdoor recreation on their area in order to receive further support to grow trail networks."
---
Headwaters trail
As of summer 2019, our proposed Headwaters Trail has been approved by the WVDNR. This is a major step in our goal to complete our Core Loop Trail and we are eager to move forward with this new section, which will connect Canaan Valley State Park with the new Canaan Valley National Wildlife Refuge Visitor Center. We have few contingencies to meet before we can begin construction. One of those contingencies has already been met: we had a Cheat Mountain Salamander review done and our trail is well below elevation of the known salamander habitat areas. Our next goal will be to purchase and install a boot and bike wash station at either end of the trail to discourage the spread of invasive species. Once these goals are met we will get into the trail design phase and begin identifying funding sources. This is a prime example of how your support (better yet, recurring donation) can help us move forward to complete our Core Loop Trail.

---
REI trail day
Some of our trail work efforts were met with vibrant community support. We partnered with REI on June 22, 2019, for a trail work day on Canaan Mountain.

We also have been strengthening our partnership with Blackwater Bicycle Association (BBA), another local trails nonprofit. Below you can see some of the fresh corduroy we laid down to navigate a large mud hole.
---
New trail kiosk at Tucker boulder park
Another trail map kiosk was completed by Appalachian Dirt in November, 2019. We are updating our map files and will likely install the map in Spring 2020, along with a map from Highlands Trail Foundation, which is working to complete a rail trail that will go from Elkins, WV, to Mt. Storm, WV, passing just by the Tucker Boulder Park in Davis.
---
Beall trail south to be extended
There is some very exciting trail news in Canaan Valley. The Canaan Valley National Wildlife Refuge has recently purchased property adjacent to their Beall South Trail. They are planning to extend this wonderful trail further and ideally will connect it to the new Visitors Center in the heart of Canaan Valley. More news to come on that…
---
WV Land trust buys yellow creek preserve
The West Virginia Land Trust was successful in completing their purchase of Yellow Creek Preserve, which includes the fabled Moon Rocks section of trail just outside of Davis, WV. We have partnered with them to be stewards of the existing trails and we are working on doing a trail log to inventory the needs of the area and also a reroute of the trail to avoid private landowners. From the WVLT website:
"The Yellow Creek Preserve is 860 acres in Tucker County that adjoins the Canaan Valley National Wildlife Refuge and Little Canaan Wildlife Management Area. The property is named after a tributary of the Blackwater River that flows through the property. The property also includes Moon Rocks, a rock formation that is a popular destination for hikers and mountain bikers. The tract contains 3+ miles of the Moon Rocks-Hoodoo Rock loop trail, and links to 20+ miles of the Heart of the Highlands Trail System. Trail access to the Yellow Creek Preserve can be made from the parking area at the National Youth Science Foundation building off Appalachian Corridor H just north of Davis, or from Camp 70 road at the south end of the Tucker County town."
---
17th annual wreath making workshop at White grass
HOH was the lucky benefactor of this annual event put on by Dave Saville and White Grass in Canaan Valley, WV. Dozens of people made wreaths and donated to HOH. This event is every year the Sunday after Thanksgiving.
---
Archived News